Welcome to Urban Robotics Lab!
Robotics for Smart Cities: Our lab focuses on the research and development of Robotics Technologies for Smart Cities.
The research fields include autonomous robot navigation, AI, machine learning, monitoring, inspection, control, and rehabilitation for smart cities and civil infrastructures. We also deal with big data informatics supporting sensing, analysis and design activities needed to construct and operate smart and sustainable built environments. (For more information, download pdf.)
Korean sites introducing our lab informally: Naver post, Vingle net
Sensors special issue: Download flyers here.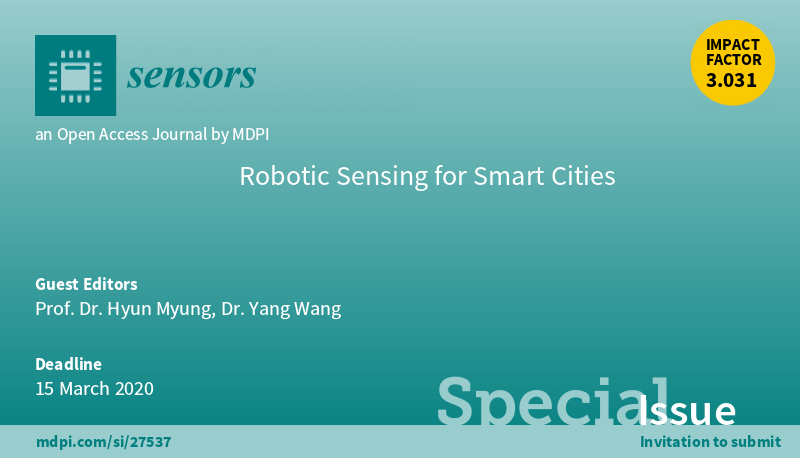 Recent Announcement

Lab tour from Chongqing University of Science and Technology

About thirty students from Chongqing University of Science and Technology (중경이공대), China visited our lab on Jan. 14, 2020.


Posted

Jan 14, 2020, 12:31 AM

by Hyun Myung

IJCAS Academic Activity Award (Dec. 2019)

Prof. Myung was awarded IJCAS (Int'l Journal of Control, Automation, and Systems) Academic Activity Award on Dec. 31, 2019.


Posted

Jan 2, 2020, 10:37 PM

by Hyun Myung

KAIST Invention Award (Gold prize)

Our lab (Mr. Kwang-yik Jung, Ms. Ye Eun Kim, Mr. Hyun Jun Lim) received the Gold Prize at KAIST Invention Award on Nov. 2019.


Posted

Nov 27, 2019, 6:24 AM

by Hyun Myung

Press Release

[Open KAIST] Oct. 31 - Nov. 1, 2019 Our lab participated the Open KAIST festival, Oct. 31 - Nov. 1, 2019.해파리 파쇄 로봇 '신기하네'

https://www.yna.co.kr/view/PYH20191031215500063


Posted

Nov 1, 2019, 1:42 AM

by Hyun Myung

[KMatrix] Mole-bot (Oct. 2019)

Mole-bot developed by our lab has been highlighted in KI magazine KMATRIX.Source: https://kmatrix.kaist.ac.kr/mole-bot-development-of-bio-inspired-embedded-directional-drilling-robot/


Posted

Oct 21, 2019, 11:27 PM

by Hyun Myung

KIRD story (July 2019) [국가과학기술인력개발원 (KIRD) 경력사례스토리 편]

자유롭게 연구하기 위한 네번의 이직, 다양한 경험이 독보적 성과를 만든다.

https://k-club.kird.re.kr/service/cds/cds_story_video_main.do
Posted

Sep 7, 2019, 4:50 AM

by Hyun Myung






Recent Publications

[New journal acceptance] IEEE/ASME Trans. Mechatronics (Mar. 2020)

Wonkeun Youn, Yulong Huang, and Hyun Myung, "Outlier-Robust Student's-t-based IMM-VB Localization for Manned Aircraft Using TDOA Measurements," Accepted to IEEE/ASME Trans. Mechatronics, Mar. 2020


Posted

Mar 17, 2020, 6:39 PM

by Hyun Myung

[New journal acceptance] IEEE Access (Dec. 2019)

Hanguen Kim & Jungmo Koo, Donghoon Kim, Byeolteo Park, Yonggil Jo and

Hyun Myung & Donghwa Lee

, "Vision-Based Real-Time Obstacle Segmentation Algorithm for Autonomous Surface Vehicle,"

Accepted to IEEE Access ...
Posted

Dec 10, 2019, 12:23 AM

by Hyun Myung

[New journal acceptance] IEEE Trans. Instrumentation & Measurement (Nov. 2019) Wonkeun Youn, Yulong Huang, and Hyun Myung, "Robust Localization Using IMM Filter Based on Skew Gaussian-Gamma Mixture Distribution in Mixed LOS/NLOS Condition,"  Accepted to IEEE Trans. Instrumentation & Measurement ...
Posted

Nov 27, 2019, 3:45 AM

by Hyun Myung