Introduction
Our lab focuses on the research and development of Robotics Technologies for Smart Cities. The research fields include autonomous robot navigation, AI, machine learning, monitoring, inspection, control, and rehabilitation for smart cities and civil infrastructures. We also deal with big data informatics supporting sensing, analysis and design activities needed to construct and operate smart and sustainable built environments.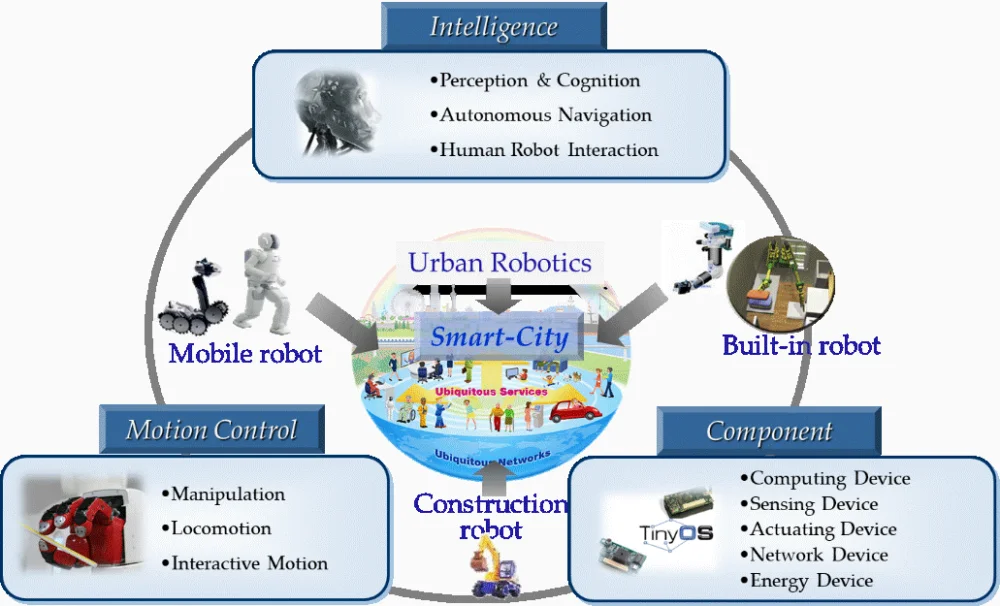 Autonomous Robot Navigation
Vision, LiDAR, magnetic field, beacon-based 

SLAM (Simultaneous Localization And Mapping)

Autonomous navigation of self-driving cars
Indoor positioning in a fire disaster situation
UAV (Unmanned Aerial Vehicle) navigation

Self-localization at GPS outages

Underground navigation

Autonomous navigation of surface vehicles

Underwater robot (AUV, robotic fish) navigation
Machine Learning & Artificial Intelligence
Deep learning: DNN (Deep neural networks), Bio-inspired NN, Spiking NN, etc.

Machine learning: SVM, PCA, ICA, etc.

Computational intelligence: Evolutionary computation, Neural networks, Fuzzy logic

Applications: Gesture recognition for HRI (Robot-Human Interaction), Object recognition
Intelligent Robots
3D environment sensing & perception: Autonomous 3D map-building
3D robot navigation: 3D localization, obstacle avoidance, and path planning
Fault detection based on 3D map-matching
Monitoring and Inspection for Smart Cities
Structural health monitoring (SHM) using IT techniques (Vision, LRF) 
Localization and navigation of smart vehicles for structural inspection
Environmental Robotics
Ubiquitous robot design for environmental inspection and surveillance
Eco-systematic robot design: Rechargeable during its working, Power reproduction mechanism, etc.
Environmental rehabilitation robot: Automatic pollution detection and purification by using manipulation and mobility
New & Different, World First!
Do what others do not.
Don't do what others are already done well and much.
Dig up the same well (Invest more than 10 years in one research topic).
Convergence with various fields (Discovery of various application fields based on in-depth research).
Fun & Impactive
Set up an interesting topic to work on.
Research with high social contribution (impactful).
Research to reduce the wealth (rich-poor) gap pursue the public interest.
Practical things that can be linked to industrialization (Economic and technological ripple effect).